Meet Our Wedding Coordinators
Laura Seguin
Principal Wedding Coordinator
Born and raised in Jacksonville, Florida, and then in Memphis, Tennessee, Laura from a young age has known the true meaning of Southern hospitality.
In college, Laura's focus was primarily in marketing and advertising, but she found her true calling in early 2011, when she began working in the vivacious and fast-paced world of events. Laura joined the team at the Viceroy Hotel Group where she was in banquet staffing, bartending, and sales. She then continued her catering career by joining the team at Truly Yours Catering. Her career next led her to become the Event Sales Manager at Maggiano's Little Italy.
Over the years, forming meaningful and lasting relationships with clients came to the forefront of Laura's life and career goals. And as such, Laura found herself especially drawn to the magic of wedding coordination. Laura joined the team at Wish Wonder Dream in early 2015, and every day she's able to let her passion and creativity take flight, working with a team of fellow wedding organizers and a roster of clients she considers her friends.
When she's not bringing wedding dreams to life with her clients, Laura is home with her 7-year-old son. Together they love to hike and explore the great outdoors and speak to each other with Harry Potter accents.
My Favorite Word
Serendipity
My Favorite Color Combination
Gray and Peach
Character You Relate To
A mix of Rachel and Monica from Friends
My Style Icon
Julianne Hough
Three Adjectives to Describe My Personality: Thoughtful, Loyal, and Fun!
Three Adjectives to Describe My Style
Classic, Modern, Feminine
Perfect Song for a First Dance
"Today" by Joshua Radin
My Favorite Moment at a Wedding
After Bride and Groom seal the deal with a kiss at the ceremony; the pure joy in their faces realizing they just got married to the love of their life is priceless.
---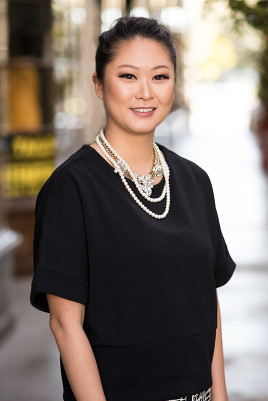 Janice Kim
Principal Wedding Coordinator
Born in Los Angeles and raised in a creative household where her mother was an artist, Janice was sure at a very young age that she wished to pursue a career that would allow her to explore, expand, and demonstrate her creative talents. She has a degree from FIDM in Merchandise Product Development, and a bachelor's from CSULB in Recreation, Tourism Management, and Event Planning. Many would say that Janice's biggest strength is her ability to connect with people. You can rest assured that she will make it a goal of hers to really understand the personalities and styles of each individual and couple so that their special day will truly be a bespoke experience. Janice draws from her experience working as a fashion marketing rep, makeup artist, and event coordinator to help couples realize and achieve the wedding of their dreams. But what really means the most to Janice is the specialness of sharing that wedding day with the newlyweds. Janice currently resides in San Marino with her boyfriend. Her favorite things are puppies, road trips golf, Disneyland, nail art, and food.
When she isn't planning weddings, you can find her packing her suitcase for whatever adventures might lie ahead, whether it be finding the best eats in Tokyo or dancing on a beach in the Bahamas.
My Favorite Word
Love
My Favorite Color Combination
Black/Navy & Gold, Metallics & Blush Tones, Gray & Jewel Tones
Character You Relate To
Anne Hathway in Devil Wears Prada
My Style Icon
Coco Chanel, Grace Kelly, Brigitte Bardot, Victoria Beckham
Three Adjectives to Describe My Personality: Adventurous, Romantic, Loyal
Three Adjectives to Describe My Style
Classic, Chic, Edgy
Perfect Song for a First Dance
"Let's Fall in Love" Diana Krall
My Favorite Moment at a Wedding
When the father gives the bride away and also the Father/Daughter Dance
---
Cat Nguyen
Principal Wedding Coordinator
Born in Orange County and raised in a nurturing family of six, Cat grew up watching her entire family pursue vastly creative careers. Her parents explored their creativity through cuisine while her two older sisters explored fashion design and arts and journalism respectively. Her baby brother, on the other hand, put his heart and soul into dance. She came to realize that she had an innate interest in the arts and that all of what her family loves–food, design, storytelling, music–she loves too. And it just so happened that wedding planning allowed her to incorporate all of these elements while giving her the creative freedom she yearned for.
Cat earned her Bachelors of Science in Business Management with a minor in Communications from CSULB which means not only does she know how to work with people but she also loves to work with people. As an empath, she makes it a goal to get to know everyone she meets along the journey and all the people who she is fortunate enough to work with so that she understands their goals, their vision, and their dreams more clearly.
Cat has been and still is very much so a hopeful romantic who watches endless romantic comedies and reads classic literature about love. She believes that you can love completely without complete understanding.
When she isn't planning a wedding, Cat is basking in the sun by the beach with a good book in hand, making the biggest mess in the kitchen while dancing and singing to her favorite jazz musicians, or cheering her friends on at the gym while they all push out ten more reps of squats together.
My Favorite Word
Can
My Favorite Color Combination
White and Gold
Character You Relate To
Jess from NewGirl
My Style Icon
Chiara Ferragni
Three Adjectives to Describe My Personality
Inquisitive, Bubbly, Passionate!
Three Adjectives to Describe My Style
Clean, Colorful, Eclectic
Perfect Song for a First Dance
"She Is Love" by Parachute
My Favorite Moment at a Wedding
When the Bride walks down the aisle with her father
---
Kylie Raacke
Principal Coordinator
Born and raised right here in Pasadena, California, Kylie Raacke graduated from Azusa Pacific University with a Bachelor's Degree in Business Management and a minor in Art History. Growing up with parents who are business owners has given her the skills to be a strong leader, listener, and problem solver.
Kylie's positive personality radiates through everyone she meets allowing her to easily connect with others. Her enthusiasm and upbeat personality make her a key person to have by your side on your wedding day. Kylie grew up in a very diverse community, which has given her the ability to understand different cultures and personalities of individuals and couples. Many would say that Kylie's biggest strength is her motivation for life and helping others succeed.
Kylie is the resident style consultant for Wish Wonder Dream, giving her creative mind an outlet and helping couples envision their dream wedding coming to life. Rest assured if you are concerned about your wedding Kylie is here to help. Having a keen eye for detail and design, she is confident in her ability to make your special day perfect.
In her spare time, you can find Kylie people watching while eating Dole Whip at Disneyland, hiking Runyon Canyon with a few of her favorite people, or daydreaming about her next big adventure around the globe. Her desire for adventure has always kept her on her toes pursuing her dreams to make not only herself but also others the happiest they can be in life.
My Favorite Word
Disney. It is used in my vocabulary at least 3 times a day. (Disney films, Disneyland, Walt Disney, basically everything Disney!)
My Favorite Color Combination
A blend of spring and summer. Ivory, Tiffany Blue
or Mint, and a light pop Shimmery Gold.
Fictional Character I Relate Most To
Anna from Disney's Frozen
My Style Icon
She maintains a sophisticated style yet adds a personal flair to everything she wears. She is a true inspiration.
My Favorite Day Dream
I daydream about my future adventures and travels. I dream of spending a couple years working in New York while spending summers in Europe. Oh, the life…
Three Adjectives to Describe Me
Extroverted, Dependable, and Ambitious.
My Favorite Moment at a Wedding
Favorite Moment at a Wedding: This may be a cliché, but when the bride walks down the aisle, I look at the groom's face. The emotions are priceless and the smiles are always more radiant than the sun.